Things to Do in Norwich
1 week ago Fri 5th Aug 2022
Our best things to do in Norwich list offers the hidden gems of the city alongside the famous tourist to-dos, and shows you how to make the most of your trip with our super simple and wallet-friendly Park and Ride. Park and Ride gives you the freedom to roam the streets on foot as they are best explored either with the family, with friends, or when solo sightseeing. A paradise for pedestrians, once in the city most attractions are within walking distance, with the sights of cobbled streets and gorgeous Tudor houses as your picturesque background.
Whether you're visiting Norwich for shopping, reuniting with friends, or to discover the abundance of history, art, and culture at your fingertips, you won't struggle to find places to visit. For families, the city makes a day out to remember, with loads of things for kids to do in Norwich.
The most complete medieval city in the UK, history fanatics will appreciate the beauty of the ancient city, featuring twelve breath-taking heritage sites. With no end of affordable, fun things to do in Norwich, see which activities and attractions should be added to your to-do list!
Download the Konectbus App to plan your journey, buy tickets, and track your bus
Norwich Castle and Art Gallery
For a delve into the rich history of Norwich, the magnificent medieval Norwich Castle offers grandiose stone walls that hold historical significance to the city. This stunning monument also offers a Museum with collections from the Egyptians to the Natural history display.
Great fun for children who want to re- enact life as a knight in a castle or explore the dark hidden secrets of the dungeons - some parts are currently closed to visitors due to their major refurbishment programme so best to check online before you visit.
Get your fill of the cultural offerings of Norwich with the Norwich Castle Art Gallery, hosting decorative art dating back to 1400 BC and fine art from as far back as the 17th Century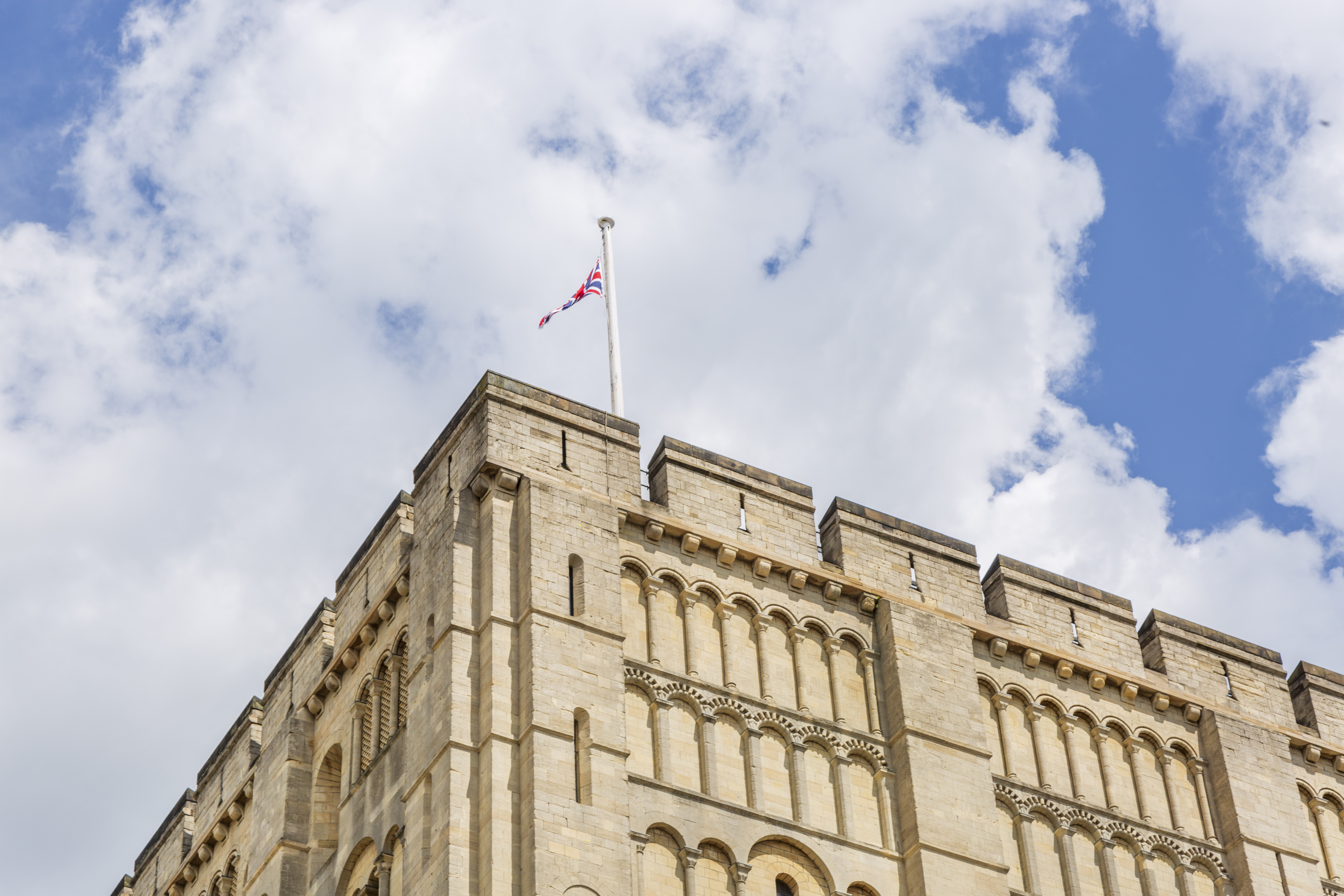 Norwich Castle and Art Gallery
Nearest stop - Norwich Castle Meadow - Stop CX/CY, for services 501 and 502.
Norwich Cathedral and Gardens
Norwich Cathedral is an absolute must. One of two striking Cathedrals, these magnificent grounds make for a relaxing walk. You may have even seen the Norwich Cathedral Peregrines webcam streaming live! As you stroll the awe-inspiring site, you can pop by the visitor and education centre and see what exhibitions are on.
While the Norwich Cathedral is one of the country's largest, it doesn't end there. Just opposite the exquisite structure is Tombland Alley, a charming, secluded path that holds nuggets of fascinating history. Also a stone's throw from the Cathedral is the famous Elm Hill, one of the prettiest streets in Britain. The cobbled streets have been a filming location for several films, due to the beautiful landscape and dedication to retaining the historical integrity of the area.
Of course, if glorious buildings are your passion, the Cathedral of St. John the Baptist is walkable from the city centre, taking only around 15 minutes. Take in the spectacular stained-glass windows and astonishing architecture of the building. Once you're finished, you can get a breath of fresh air at the nearby Plantation Garden…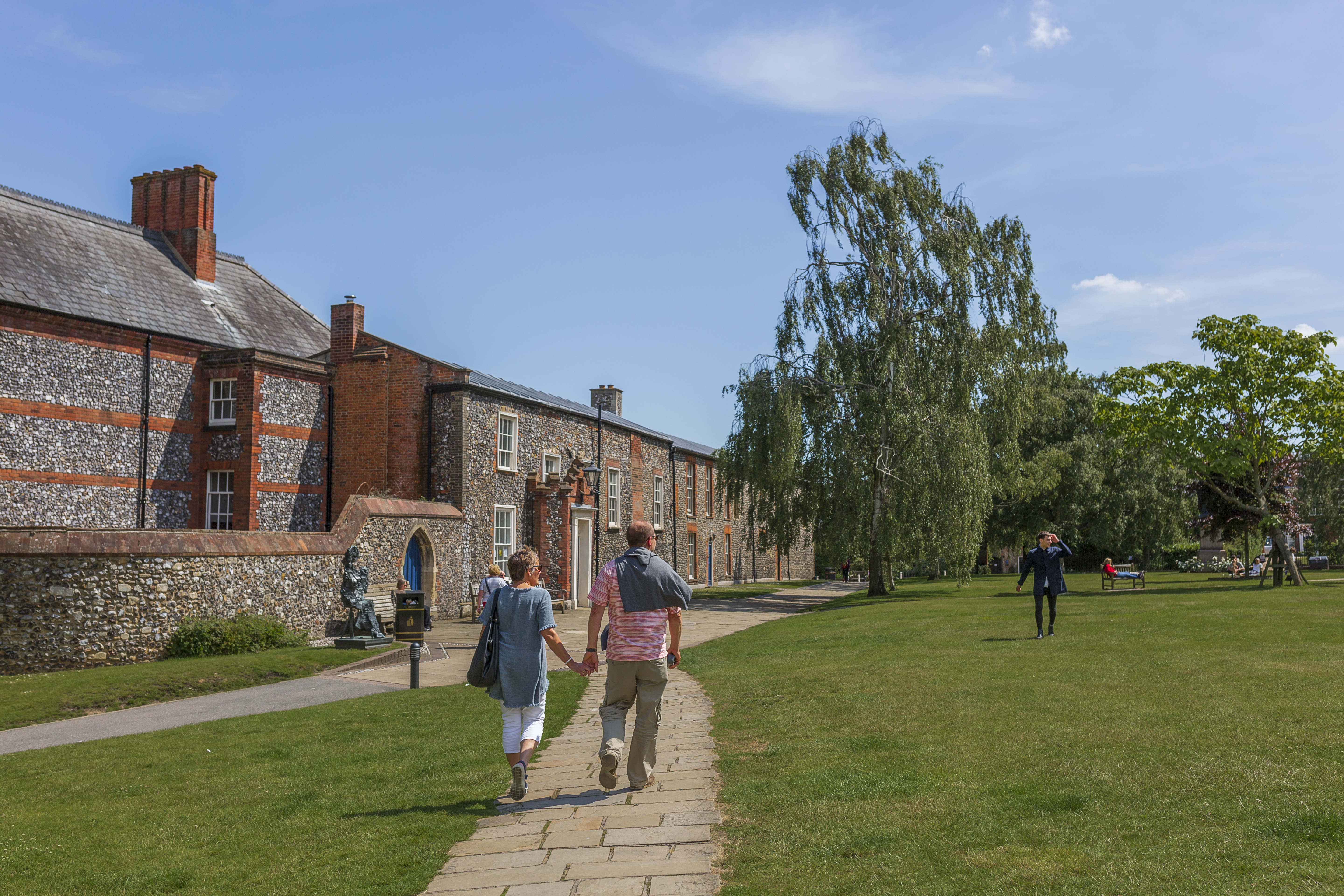 The Gardens of Norwich Cathedral
Nearest stop - Norwich, Tombland - Stop CM/CP for Services 501 and 502
Plantation Garden
Immerse yourself in a luscious, tranquil green space and swing by the Plantation Garden. An enchanting expanse of gardens and woodland walks, the Victorian-style greenhouse, Gothic fountain, and well-tended flora are just a few star features.
This understated oasis makes for a peaceful walk if you're seeking a quick break from the relative bustle of the city.
Easily accessible on foot, this hidden flourishing sanctuary offers a unique beauty that you wouldn't expect so close to a city centre.
The restored Victorian garden is a pleasure to stroll around, so definitely one for nature-lovers! If you're partial to an afternoon tea, then the Plantation Garden also has plenty of Summer soirées spotlighting local musicians.
Nearest stop - Castle Meadow - Stop CX/CY, for services 501 and 502, and just under a 20 minute walk.
Chapelfield Gardens
In the heart of the city centre, this captivating green space, allows you to relax and enjoy the tranquil setting. The band stand is used often for live music and events, a perfect space to escape the daily hustle and bustle of the city centre. A children's play area, allows opportunity for the little ones to run around and burn off some energy.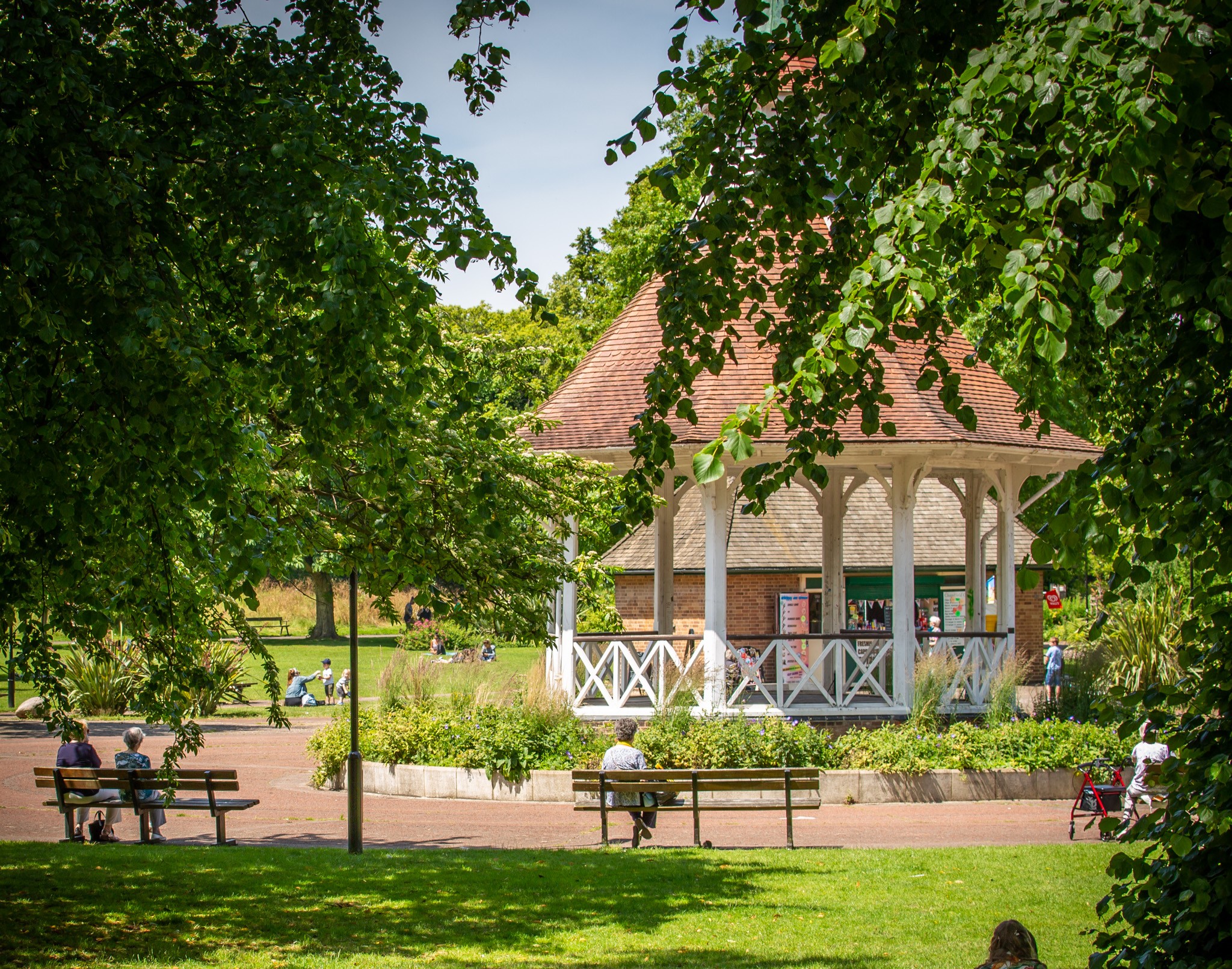 Chapelfield Gardens
Nearest Stop - Castle Meadow - Stop CX/CY, for services 501 and 502, and less than a 10 minute walk.
Afternoon Tea in Norwich
The Plantation Garden isn't the only place to tuck in to an afternoon tea, with plenty of luxurious or affordable dining experiences available. The Assembly House is one of the more luxurious choices, with many culinary accolades, this is a place to treat yourself! Maids Head Hotel also offers a delectable afternoon tea menu, with carefully curated sweet and savoury delights to offer refreshment during your visit to Norwich.
Harriets Cafe Tearooms is a lovely little location and provides a more budget-friendly option, and right in the heart of Norwich too! Or, in the grounds of the Norwich Cathedral you'll find The Refectory, home to the famous Jarrold scone!
Nearest stop for The Assembly House and Harriets Cafe, Castle Meadow - Stop CX/CY, for services 501 and 502. For Maids Head and The Refectory, Norwich, Tombland - Stop CM/CP for Services 501 and 502, all within close walking distance.
Museums in Norwich
Norwich offers a wealth of fantastic museums, educational tours and exhibits, perfect for any history nut. The Museum of Norwich at the Bridewell is another of the city's historical and cultural establishments. This quaint destination has an exciting range of exhibits; the Pharmacy is a highlight of the museum, with an impressive collection of potions and pills, this is one for hobby historians with an interest in the history of medicine. Great for an entertaining and educational trip for kids, this museum makes for a wonderful family day out. A small but fascinating museum tucked away just off the main streets of the city centre, this little treasure chest of history is a must for anyone with a thirst for knowledge.
For local Norwich history (of which there is plenty), Strangers' Hall is another gem. With an undercroft believed to have been constructed in the 14th Century, this Tudor merchant's house has housed some iconic Norwich citizens, from former mayors to acclaimed legal practitioners.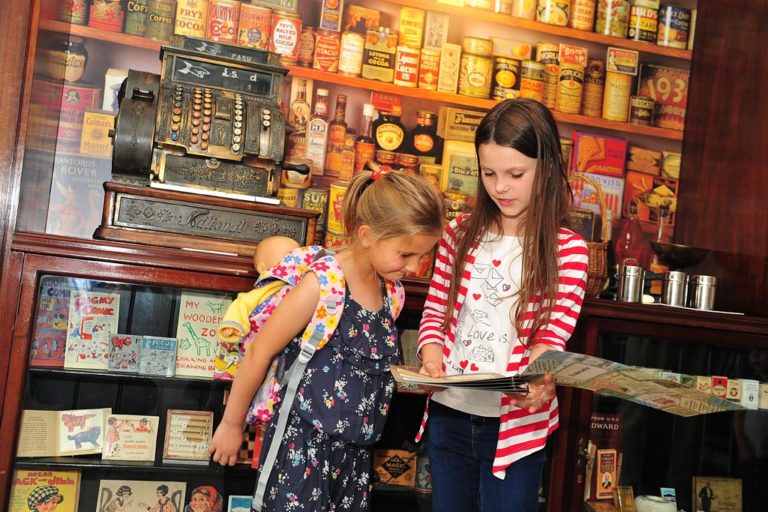 Bridewell Museum is perfect for the kids this Summer
Nearest Stop - Castle Meadow - Stop CX/CY, for services 501 and 502, less than a 10 minute walk for both museums
Norwich Dinosaur Trail
One of the best things to do in Norwich with kids is to hunt dinosaurs down with the beloved GoGo Discover trail! Pack your best walking shoes and track down a herd of funky dinosaur sculptures designed by local artists and schools. A must-do city activity for kids, you can take part in a T-Rex spotting session that is making waves with the locals.
The Dinosaur trail Norwich offers is an unbeaten experience for kids that doesn't break the bank, and when you download the app you can see the fearsome T-rexs you collect! A great activity for any aspiring little palaeontologists or children with a thirst for adventure, the pre-planned trail leads you around the sights of the city, ticking off the fabulous themed dinos as you go. Simply download a trail map, and you can be on your way to conquering the quest of the Norwich dinosaur trail. Help to raise money for a good cause while touring Norwich with a prehistoric twist.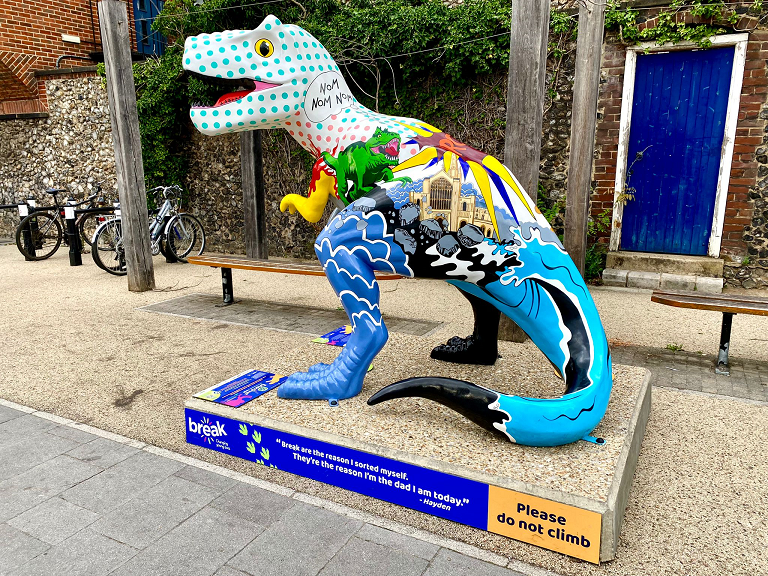 City Centre Shopping - award winning Norwich Market and Lanes
Shops in Norwich are not to be missed when you're visiting the stunning city. With two large shopping centres as well as a variety of local and chain businesses scattered throughout the centre, shoppers are spoilt for choice. From clothes and jewellery to electronics, Chantry Place and Castle Quarter both provide a huge variety of the favourites, giving plenty of gift inspiration and treat-yourself-opportunities.
For a larger assortment of shops, Chantry Place provides popular stores, with all of your shopping needs ready to be met. Once you've built up a healthy appetite from shopping, there's a selection of delicious restaurants next to the centre including Greek and Japanese food.
While both shopping centres create plenty of choice, it's worth checking out the iconic market and lanes. With quirky vintage shops and international cuisine stalls populating the market, you can wander the brightly coloured huts for shopping inspiration. For shoppers with a passion for thrifting, Norwich City Centre has plenty of charity shops and if you venture out a little further you can find hidden treasures in the city's antique shops. For other smaller, quirkier businesses, the Norwich Lanes provide some rare finds. Whatever you're looking to add to your collection, Norwich shops hold the key to your desires.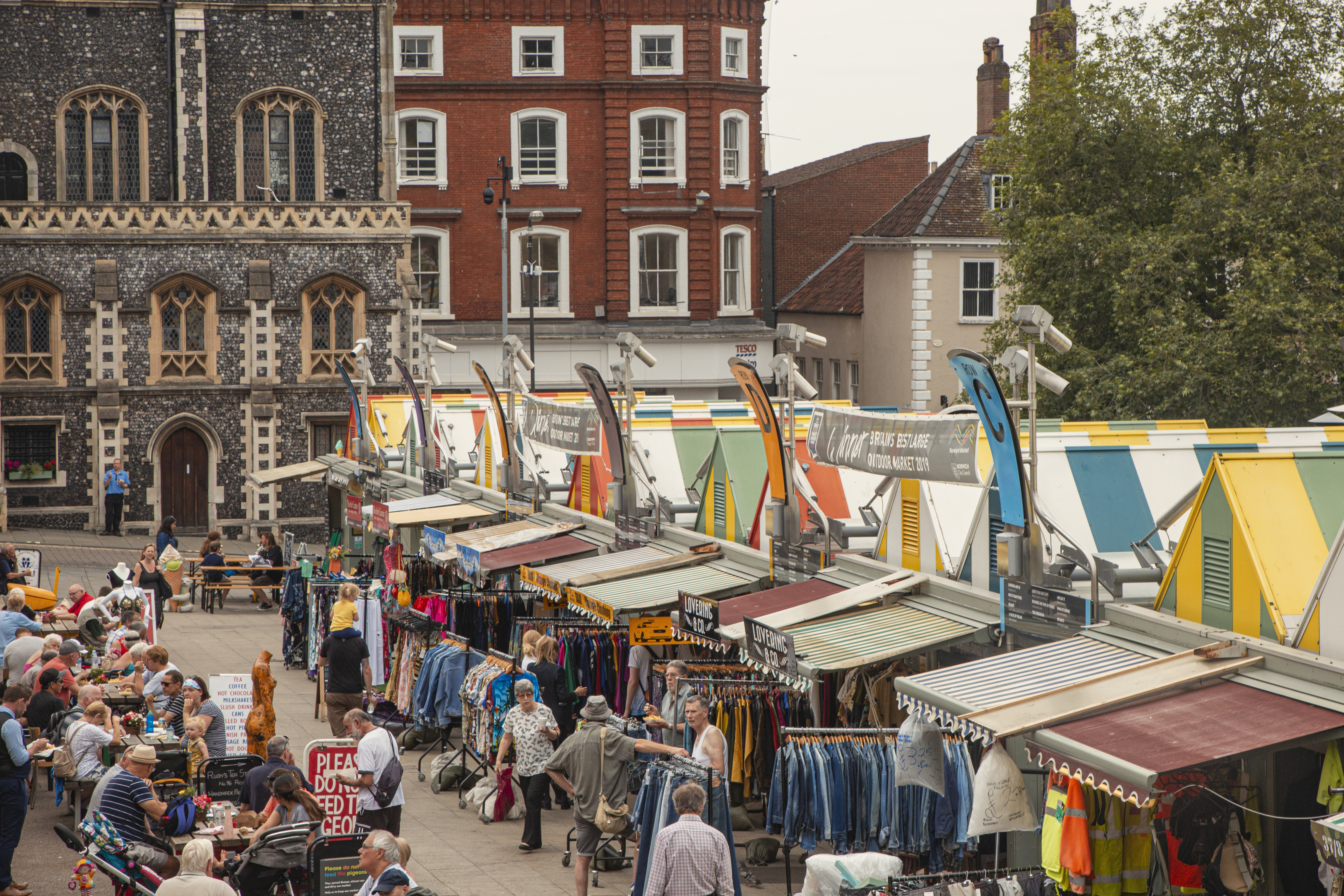 Norwich's Award-Winning Market
Nearest Stop for Castle Mall, the markets and city centre, Castle Meadow - Stop CX/CY, for services 501 and 502.
Nearest Stop for Chantry Place, Norwich Bus Station Stand F/G for services 501 and 502, along with a less than 10 minute walk.
Norwich Theatre Royal
Over 250 years old, this theatre welcomes west end shows, actors, plays and workshops from around the world to entertain and delight. From opera to comedy, the Theatre Royal is a beacon of culture and arts just waiting for an ecstatic audience. Come for poetry, ballet, or live music, and sit back while the outstanding performers whisk you into another world.
For an experience to remember and a performance that will have you at the edge of your seat, explore the wide range of shows that this historical theatre offers. With matinee and evening shows available, you can find something suited to your schedule.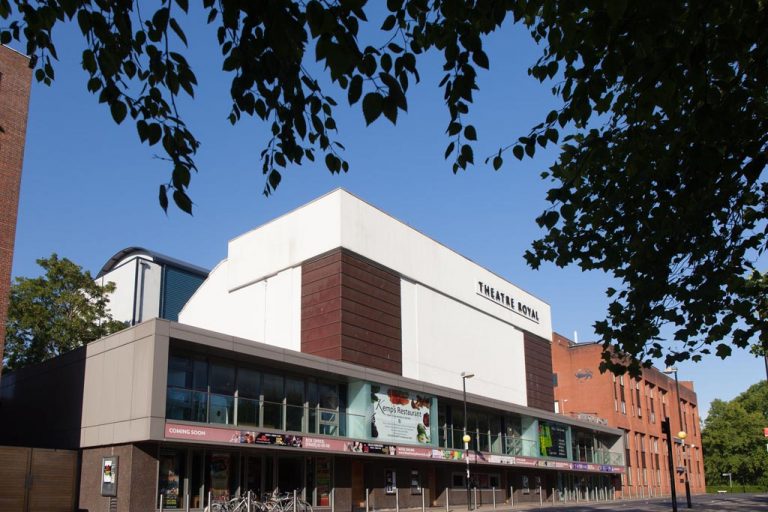 Theatre Royal Norwich
Nearest Stop - Norwich Bus Station Stand F/G for services 501 and 502, along with a less than 10 minute walk.
The Millennium Library at The Forum
A unique space in the heart of Norwich, Principally the city's library but also hosts lots of festivals perfect for youngsters on the weekends and holidays. This community building has restaurants, BBC East HQ, and a range of free events on too! Mosey the impressive collection of books at the Millennium Library or get involved with one of the many friendly social activities on, at this conveniently central Norwich gem.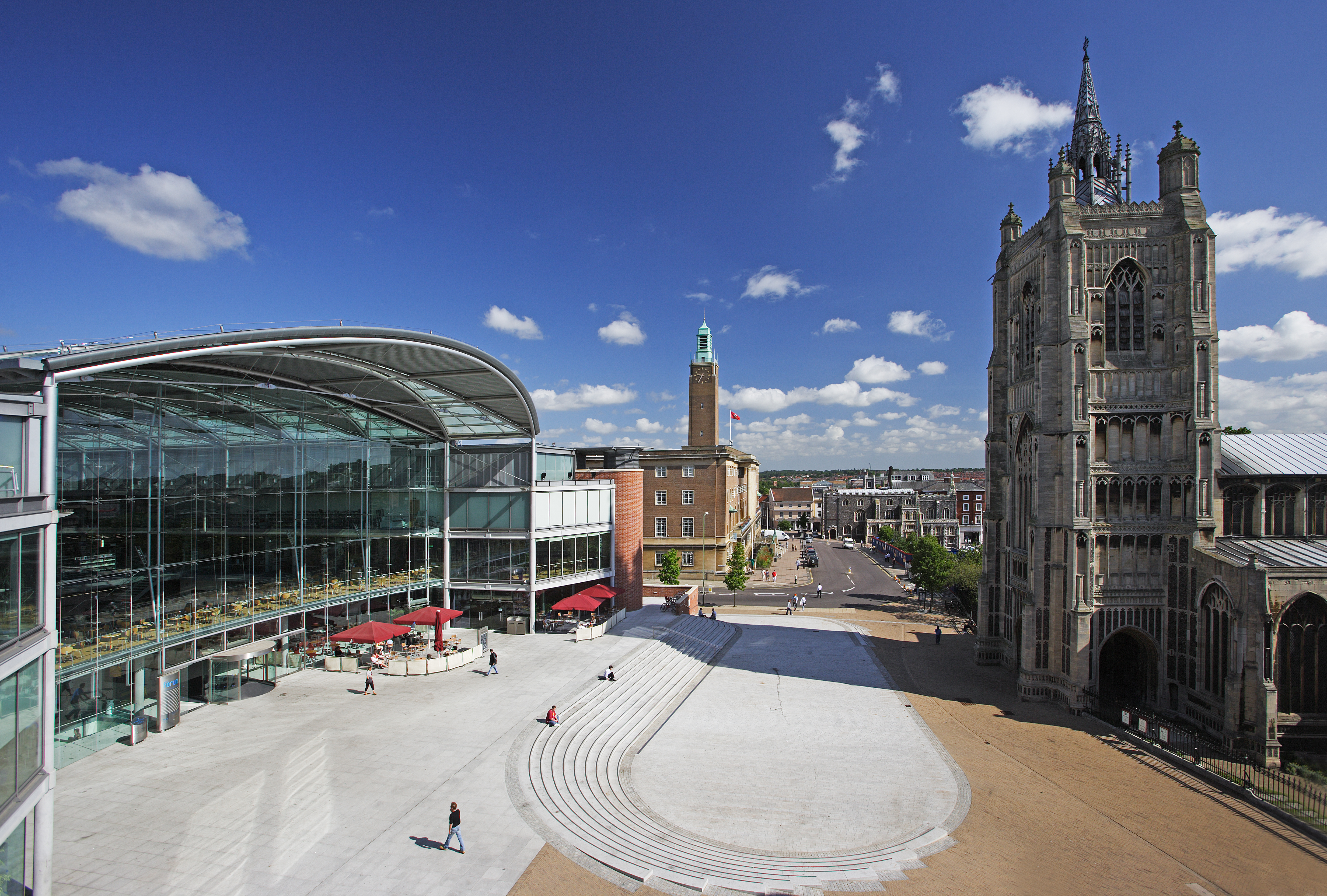 Millennium Forum in Norwich
Nearest Stop - Castle Meadow - Stop CX/CY, for services 501 and 502
Riverside Norwich
Riverside is a leisure area that offers an array of entertainment venues, the perfect destination for families. Featuring a trampoline park, along with a cinema and restaurants, Riverside is well worth the visit if you have little ones! Although a 20-minute walk from the bus station, there are bus routes that place you closer to Riverside if the activity-dense area is your cup of tea.
Look no further for things to do in Norwich with kids, Riverside is the ideal spot for keeping them happy. With everything in one place, through Park and Ride you can have stress free family travel with a multitude of laughter-inducing activities right in front of you.
Nearest Stop - Castle Meadow - Stop CX/CY, for services 501 and 502, 18 min walk or change over to 5B/8 service at Castle Meadow for a less than 10 minute walk.
Why use Park & Ride to visit Norwich City Centre?
With convenient free parking in Sprowston, Thickthorn, Harford, and Norwich Airport, Park & Ride is a sustainable, simple, and affordable option for those driving into Norwich, allowing you to avoid the faff of complicated one-way systems and driving around in circles.
By parking up for free, you can choose which bus stop to use to place you closest to the Norwich attractions at the top of your list. What's more, you can pick up a group pass to save money if you're travelling with friends!
Book your journey to Norwich and plan your day via the Konectbus App