Norwich Park and Ride - site information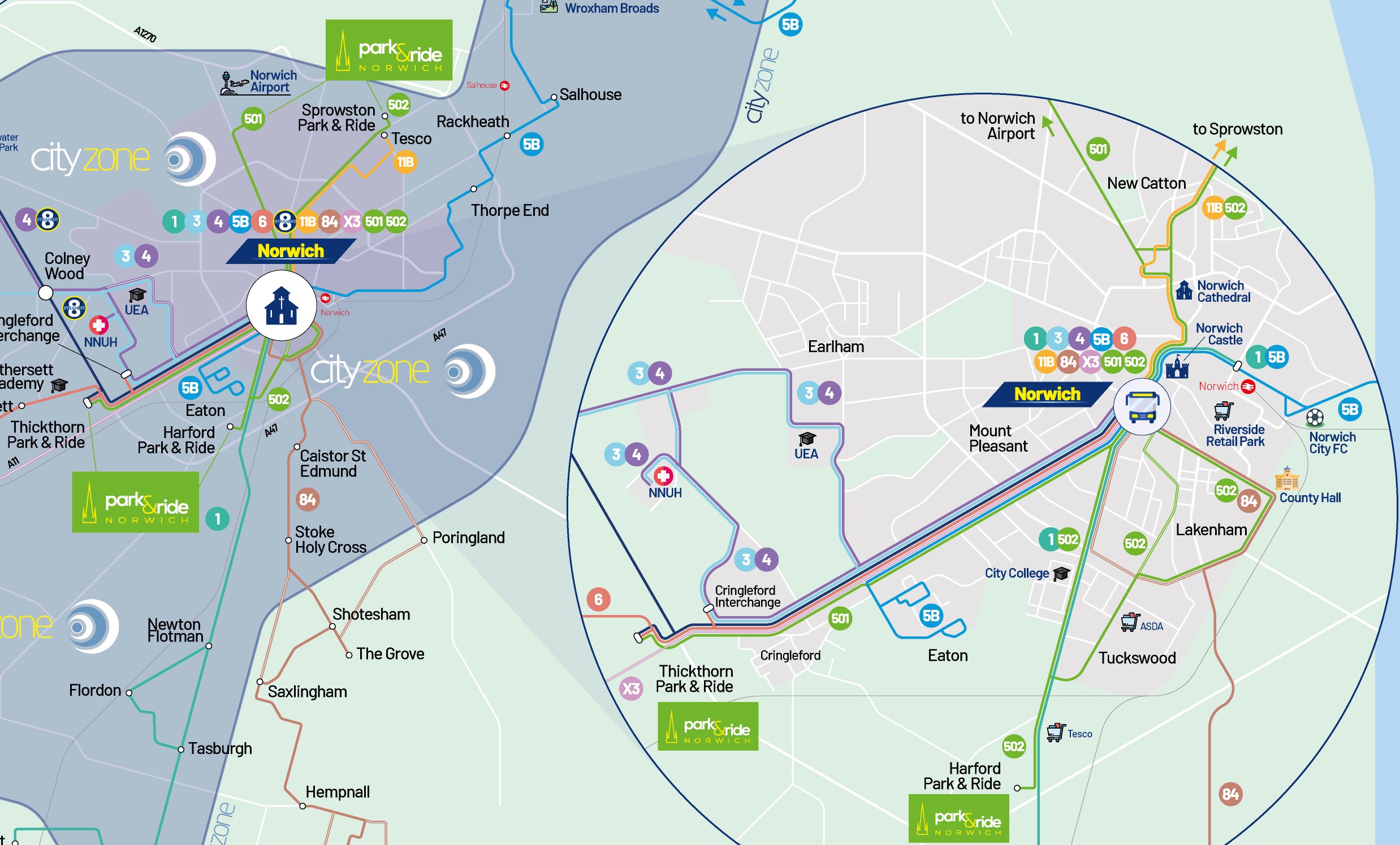 Where to find us
Airport Park & Ride, Buck Courtney Crescent, Norwich, NR6 6JT (A140 adj Norwich International Airport)
Harford Park & Ride, Ipswich Road, Norwich, NR4 6US (A140/A47)
Sprowston Park & Ride, Wroxham Road, Norwich, NR7 8RN (A1151)
Thickthorn Park & Ride, Norwich Road, Hethersett, NR9 3AU (A11/A47)
Other sites
Postwick Park & Ride, Yarmouth Road, Norwich, NR13 5NP (A47/A1042) (CLOSED until further notice as being used as a COVID 19 test centre)
Costessey Park & Ride, Long Lane, Norwich, NR9 3LX (NO service to Norwich city centre) (A47/A1074)
Facilities
Norwich Park & Ride has four conveniently located car park sites around Norwich.
Please note that our Costessey site only serves the N&N Hospital and UEA, not Norwich city centre.
All sites are operated by Konectbus.
General Information
Buses run approximately every 20 minutes for most of the day, Monday to Saturday.
Journey times take approximately 12-20 minutes.
Sunday buses operate at Thickthorn sites (Airport too during the Christmas period)
View ticket options (park your car and simply pay on the bus/on the app)
Site facilities
Sometimes the sites get very busy so if you want to check the number of spaces available go to the live car parking website.
Airport: 620 spaces. Costessey: 1100 spaces. Harford: 1014 spaces. Sprowston: 792 spaces. Thickthorn: 726 spaces.
Toilets
Disabled toilet
Baby changing facility
Real time bus information
CCTV
Cycle parking
Disabled spaces
Family spaces (not Airport)
All car parks are also covered by Closed Circuit Television (CCTV), and have the Park Mark Safer Parking Award
Returning to the site after it has closed
If you return to the sites after the last bus and find the barrier closed, approach the exit barrier slowly and it will raise.
Overnight parking
Overnight parking is not permitted.
Lost property
Call Konectbus on 03300 539358 (Monday to Friday, 07:30 to 18:30) or pop in to Norwich Bus Station.