Konectbus turns 21
1 year ago Wed 16th Sep 2020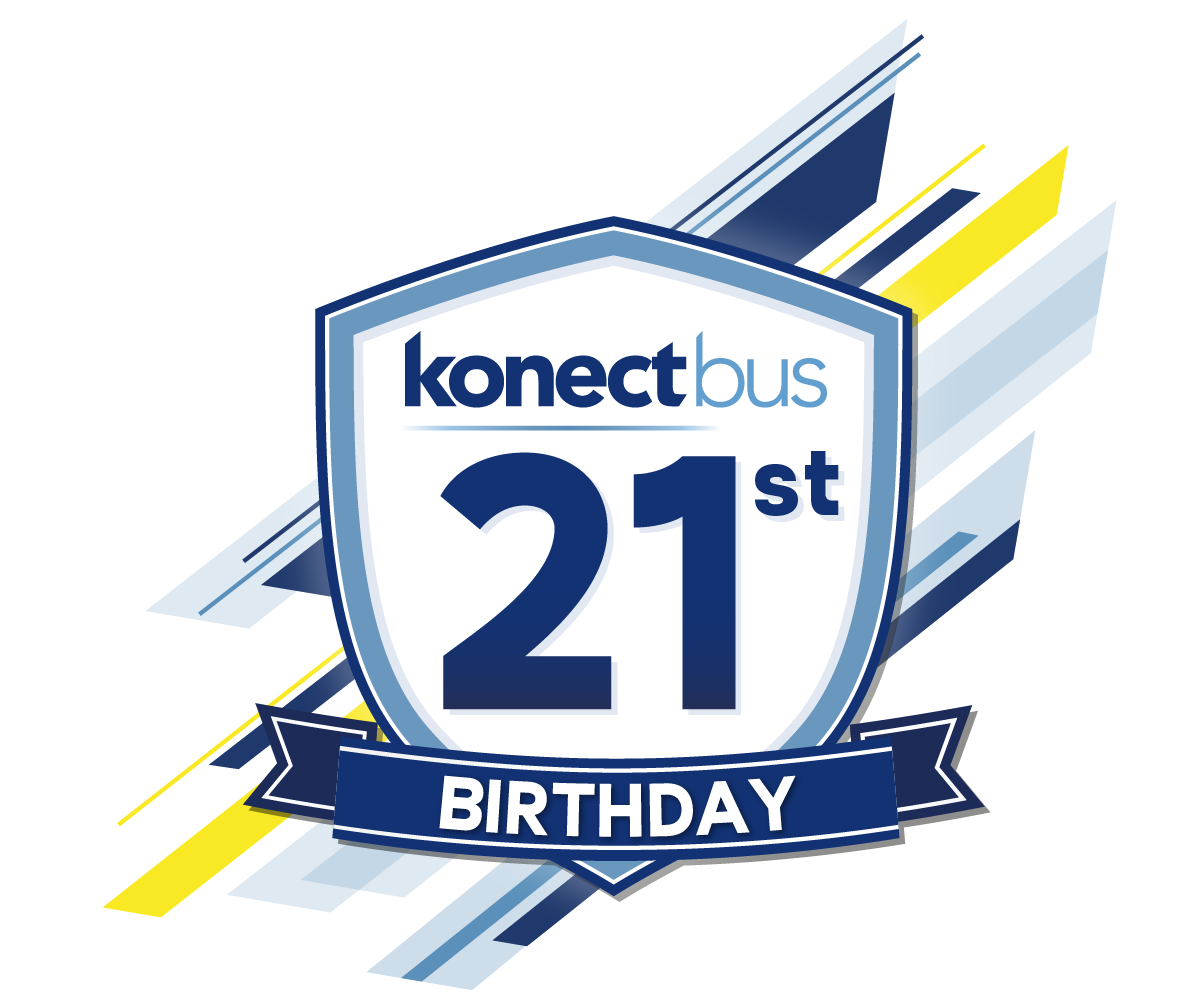 The wheels keep on turning! As September draws to a close, Konectbus turns 21.
As September draws to a close, Konectbus turns 21. Beginning life in 1999 as a Watton based coach company, the business has since grown into a well-established transport business with over 163 staff and 55 buses. Alongside its rural and urban local bus routes, Konectbus also provides the Norwich Park and Ride contract and manages Norwich Bus Station in the heart of Norwich city centre, for Norfolk County Council. The Dereham offices are now the hub of Go-Ahead's East Anglian bus operations, which include depots in Essex and Suffolk.
Early days
Konectbus first began in 1999 as Konect coaches with just 4 coaches operating from a small depot in Saham Toney. The four founding directors - Julian Patterson, Andy Warnes and Steve & Maggie Challis - had an ambition to run high quality bus routes across Norfolk. Over time, the company achieved these objectives, providing more bus routes and securing council contracts, including the Dereham town routes in 2000.
Where it all began

Konect Coaches was launched in 1999

Konect became Konectbus

Konect Coaches became Konectbus and it launched its fleet of Blue and Yellow single decker buses.
The business continued to expand and in 2003, the decision was made to sell its last coaches, become Konectbus and relocate to a new purpose-built site in Dereham to support its expanding fleet and workforce. The business continued to go from strength to strength and its achievements were recognised and rewarded in 2007 at the UK Bus Awards in London when they became the UK's Independent Bus Operator of the Year.
Konectbus remained successful in an ever-changing market and in 2010 was acquired by the Go-Ahead Group. Despite being a national company, the Go Ahead Group's philosophy has always been to maintain local identity and empower local decision making.

In 2015 the network was further improved when Go Ahead Group invested in 23 brand new buses for use on the new comprehensive Park and Ride routes as well as route 8 between Dereham and Norwich. An operating site was opened at Rackheath in Norwich to save fuel costs for routes based on the opposite side of the city to Dereham.
Norwich Park and Ride

Konectbus managed Norwich Park and Ride on behalf of Norfolk County Council

Double Deckers arrived

As the popularity of Norwich Park and Ride grew, the company invested in a fleet of Double Decker buses
In 2019 further investment was made, as three new Postwick Park and Ride single decker vehicles were bought to complement the Park and Ride scheme.
All the new Park & Ride buses are equipped with audio and visual next stop announcements, ensuring that passengers with disabilities and those unfamiliar with the area could travel with confidence. A major benefit of these buses is their environmental credentials, demonstrating the company's commitment to sustainability. The three new buses bought in 2019 have Euro 6 engines and start/stop technology to reduce emissions – notably in the Castle Meadow low emission zone.
Park and Ride Rebrand

In 2015, Norwich Park and Ride undertook a rebrand of its buses

Three new Euro 6 buses arrived

Arrival of environmental buses , demonstrating the company's commitment to sustainability
More recently, there has been an increased emphasis on enhancing the frequency of journeys, including extending journeys on the most popular routes later in the evenings, to meet the needs of local passengers and their work patterns.
We wouldn't be where we are today without our valued employees and customers, so we are committed to an ongoing training scheme to ensure that we can provide a high standard of customer service, and a particularly proud achievement has been the introduction of in house CPC training courses in 2019, bringing statutory training for drivers in line with our in house standards of customer care.
Straight 8 arrived

Launch of the Straight 8 service between Dereham to Norwich offered a direct service into Norwich City Centre

Amazing Employees

Konectbus wouldn't be where it is today without its valued employees and customers
Challenging times
Although Konectbus has encountered challenges over the years, nothing compares to the challenges posed by the 2020 Covid-19 pandemic. Timetables were altered in line with decreased demand, but we remained committed to reacting swiftly to customer feedback to cater for key workers and those who required access to essential services.
Davina Langley, Marketing Manager, describes her experience of working during the pandemic:
"I have been in this role for just over a year. The lockdown periods was a challenge, because I was just getting familiar with all the routes, when Covid influenced further change'. Davina is now back in the office after a period of remote working, which for her, has been a huge relief. "It is now easier to reconnect with my colleagues as I am able to talk directly to people and can react quicker to new changes. The workplace has been adapted to ensure we can all work in a socially distanced and Covid-secure environment, so I remain confident to be back at work, working safely."
Jeremy Cooper, Managing Director commented:
"We felt it was important to support key workers and their families during this time, taking children to school and NHS staff and essential workers where they needed to go. Our drivers, engineers and cleaners have played a front line role, enabling us to transport people to and from work with the utmost professionalism during a very unsettling period. We are extremely lucky to have such a strong and dedicated team."
Following such an uncertain period, the next challenge is to increase public confidence and encourage passengers to return to the buses, as the economy gradually reopens.
In line with Go-Ahead Group philosophy during the COVID-19 crisis, we have three priorities: to safeguard the health and wellbeing of our colleagues and customers, to play our role in society in challenging times, and to protect our business.
Impact of Covid 19

The arrival of Covid-19 had a major impact on many but we continued to run our buses to support key workers

Thank you Bus Drivers

A display of Rainbows, beautiful coloured in by local children, some of them children and grandchildren of our drivers, were displayed on our buses throughout lockdown.
The future
As well as looking back and celebrating our 21st birthday, Konectbus is also looking towards the future, whatever it may look like. In recent times we have adapted to technological advancements by installing Wi-Fi on the buses and offering contactless payments and pre-paid mobile tickets, which have reduced cash handling during the pandemic.
A 'Busy Bus' website was introduced during lockdown to allow passengers to plan their journeys according to the space available. Safety measures and cleaning programmes have also been enhanced in order to inspire passenger confidence
Davina Langley said
"Our buses remain a safe and sustainable way to travel and we continue to put our passenger's safety and comfort first. We have applied social distancing measures on all our buses, asking passengers to sit by the window, leaving aisle seats free. We ask that passengers remain socially-distanced whilst waiting, boarding and leaving the bus to minimise risk of transmission. In advance of students' return to schools and colleges this month, Busy Bus zones were introduced to ensure social distancing could be maintained within year group and school bubbles so that members of the public could continue to travel with confidence."
Konectbus is also committed to enriching the local community by supporting local businesses and events. We continue to work with Norwich City Council and the BID (Business Improvement District) in order to encourage more people to experience what the city has to offer. The increased evening journeys have made it easier for people to participate in events and support the businesses and organisations involved.
The company also launched the 'Chatty Bus' scheme prior to lockdown, which addresses issues of loneliness and social isolation by encouraging passengers to strike up conversations. As well as a means of transport, buses provide a platform for positive social change, helping people to engage with the wider community. We are excited at the prospect of being able to participate in community events in future and have a number of exciting schemes to roll out once more normal life is restored.
Chatty Bus

We are committed to enriching the local community by supporting local businesses and events

Loyal Employees

Some of our drivers and office staff have worked for Konectbus for many years, including Steve Royal, Network Manager, who has been with Konectbus for 14 years.
After 21 years, Konectbus is still going strong. We work together to overcome challenges and our positive team always rises to the occasion. This is an ethos we intend to maintain so that we can continue to transport and connect members of the local community across Norfolk for years to come.
Happy Birthday Konectbus!