Club Konections
What is Club Konections?
Club Konections allows employees of any company who are a member of the scheme to obtain a 10% discount off the cost of an adult annual ticket.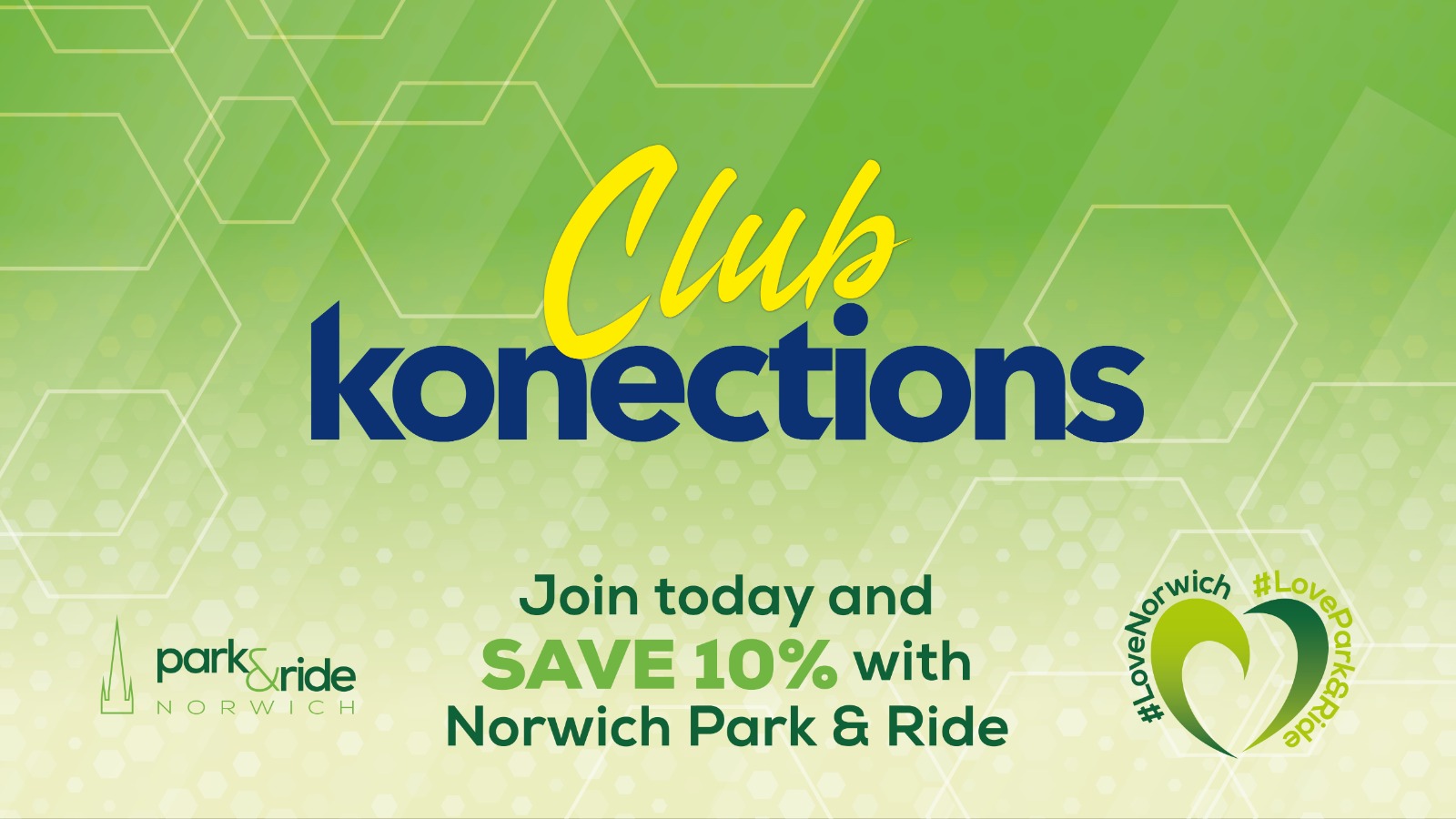 What does the ticket allow?
Depending on the zone you select you will get unlimited travel for 12 months from whenever you decide to activate the ticket.

We offer the following Adult Annual tickets:

- Norwich Park & Ride
- Anywhere
- Norwich cityZone
- point to point

Our Anywhere and Norwich cityZone zones include Norwich Park & Ride. An annual ticket is approximately 10 x monthly ticket price. A point to point ticket is based on travel between two places only; this can sometimes offer better value for money depending on your travel habits.

How much does the ticket cost?
The current discounted price of the ticket is:
- Norwich Park & Ride £519.75
- Anywhere £855
- Norwich cityZone £540
- point to point (contact us for details)
How do I buy my ticket
The ticket must be bought on the Konectbus app, online or via our customer services team. A discount code will be provided once your company are registered with the scheme.
There are no Direct Debit payment options available at present so payment must be made in full,.
The discount does not apply to 16-19, child or concessionary tickets.
Will I receive a digital or paper ticket?
Annual Park & Ride tickets are available to buy on our Konectbus app as a digital ticket. Simply scan the QR code on the ticket machine as you board the bus. It's quick, simple and ready to go.

If you prefer a physical ticket please get in touch and this can be arranged.
How can I find out if my employer is a member of Club Konections - formally The Employee Discount Scheme
Simple, here's the list below:
AECOM
Adrian Flux
Alan Boswell
Aleks Jewellers Ltd
Allies Computing
Amlin Insurance
Archant
Argents Accountants
Aviva
Barclays
Beat Eating Disorders
Big Dog Agency
Bratch Henner Solicitors
Broads Authority
Brown & Co.
Cabinet Office
Capita
City College Norwich
Clapham and Collinge
Comm-Tech Voice and Data Ltd
Content Consultants
Countrywide Legal Indemnities
Cozens Hardy LLP
Create Consulting Engineers Ltd.
CT Capital
DWP Norwich
Easy PC Ltd
Empresa
Flagship Group
Grit Digital Ltd
Hansells
HFP
HMRC
Homeserve
Hot Chip
Hugh A J Boswell
IndigoSwan
Jarrolds
John Lewis
Johnson Holmes & Co
Kent Carlyle Wealth Management Ltd.
Larking Gowen LLP
Leathes Prior
Lowestoft College
Lowestoft Local Links
LSI Architects (Design) Limited
Marks & Spencers
Marsh
Ministry of Justice
Mott MacDonald
Nielsen Brandbank
Norfolk and Suffolk Foundation Trust (NSFT)
Norfolk Citizens Advice
Norfolk & Norwich University Hospital
Norfolk & Waveney Enterprise Services
Norfolk Constabulary
Norfolk County Council
Norse Commercial Services
Norwich Airport
Norwich City Council
Norwich School
Norwich Theatre Royal
Norwich Research Park
Norwich University of the Arts
NWES
Ormiston Families
Outlook Publishing
Pellcomp Software Ltd
Purcells
Rainbird
Randall & Quilter Investment Holdings
Revelation
Rostrons
Spire Solicitors LLP
Staff Call
Suffolk County Council
Swinton
Targetfollow Estates Ltd
The Charing Cross Centre
The Magdalene Group
Towergate
UK Credit Limited
Validus-IVC Ltd
Waveney District Council
Wetherspoons
Williamslea
My employer isn't listed above, but would like to join. Can this be arranged?
Yes. Simply email us at feedback@konectbus.co.uk to arrange this.
I work for a company who is part of Club Konections but I don't travel by bus, although my partner does. Can I buy a ticket for them to use?
Tickets are only available for use by the employee of the member company. We would encourage anyone who wants to find the best deal for their travel habits to get in touch with us to talk through options.