Christmas Shopping in Norwich 2023
4 weeks ago Mon 6th Nov 2023
It's time to start planning for your Christmas shopping in Norwich! With a rich variety of Christmas shopping options, the city has everything you need to get things ticked off wishlists. Whether looking for friends or family you'll be able to find something that'll make Christmas special for your loved ones.
In this article we look at all the Christmas shopping Norwich has to offer from department store stocking stuffers, to boutique Christmas gifts you won't find anywhere else. And what better way to make your Christmas shop a pleasant one than to utilise our handy Park & Ride service and avoid circling the city looking for parking spaces.
Late Night Shopping in Norwich
For weekday workers that still desire the in-person shopping experience, there are plenty of stores that have you covered. Chantry Place and Castle Quarter have announced that they're staying open until 7pm on Thursdays through December, giving you that flexibility to shop uninhibited by your working hours!
Chantry Place will also be open until 7pm from Monday 18th to 23rd December too! (Check the website for details). So rest easy knowing Norwich shopping centres can cover all of your late night Christmas shopping needs this holiday season.
Plan your Christmas Shopping trip to Norwich on Park & Ride with the Konectbus App.
Shopping Centres in Norwich
Chantry Place (Previously Chapelfield)
If it's options that you're after, Chantry Place has all the variety you could desire from a shopping centre. Beautifully lit and decorated for Christmas, you'll be in the holiday mood the more you shop! Grab yourself a caffeine boost from one of the many cafés and get shopping, with a huge selection of stores to tickle your fancy.
For luxurious gifts to treat your loved ones, stroll into Hotel Chocolat, Lush, or The Perfume Shop, to find that indulgent treat. To find something sparkly, Accessorize, H. Samuel, and Oliver Bonas can help you find the perfect jewellery for that special someone if you're on the hunt for some beautiful earrings or a statement necklace.
Browsing for Christmas presents for kids? Langley's Toys, Models & Games is an established toy store that'll get your gift inspiration flowing. Flying Tiger is another great store for stocking fillers, with the quirky games, craft kits, and toys making affordable gift options.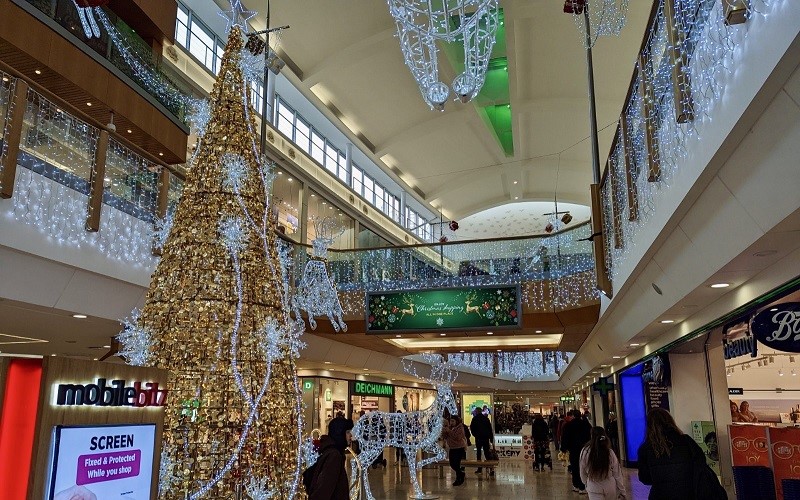 Shoppers getting ready for Christmas in Chantry Place, surrounded by dazzling Christmas lights!
Castle Quarter (Previously Castle Mall)
Still unsure on gift ideas? Castle Quarter also allows the luxury of wandering around and seeing which shops you fancy strolling into without much hassle. For branded clothing there's a range of options from Back2Back with stock such as Gym King, Leading Labels which has a range of bargain brands, and TKMaxx having a huge selection of clothing, accessories, and homeware for amazing prices. Also home to some fantastic jewellers, Castle Quarter has retailers Warren James, and F. Hinds.
You won't struggle to find pressies for kids at The Entertainer toy shop, with plenty of toys and games to mull over. Four-legged friends haven't been forgotten either! Pettitt and Boo has plenty of treats and toys, with the staff all being passionate pet-lovers there for expert advice should you need.
Avoid traffic, and park for free with Park & Ride - plan your journey today.
The Lanes and Independent Shops in Norwich
The Lanes in Norwich are iconic for a reason. These beautiful cobbled streets are home to some of the quirkiest boutiques and most charming eateries in the city. For Christmas present shopping you can find some unique treasures in the likes of local-legend store Lisa Angel, with a range of bespoke jewellery and stylish accessories.
Elm is another worth a mention for one of a kind gifts, as this lifestyle shop boasts an array of funky homeware, from eye-catching prints to artistic glassware, a must-have for any artsy friends who appreciate out of the ordinary finds! And if you're looking for gifts for a bookworm, why not try The Book Hive rather than your usual bookshop chain? They even offer a personalised book bundle!
Christmas present shopping for a D&D devotee? Head to Athena Games for expertise on all things RPG and board games. Worry not if you aren't too savvy with gaming, the friendly staff at this family-run business can assist you in finding the ultimate gift for gamers, with the Norwich Lanes having you sorted!
Department Stores in Norwich this Christmas
Jarrold
Wander the aisles of Jarrold to find Christmas present inspiration, with gifts suited to all ages, styles, and hobbies, so you can keep your present browsing to one shop! From jewellery, designer bags, and premium make-up to toys, books, and stunning homeware, this gorgeous department store has everything you need to make Christmas special.
Don't forget to stop off at the fabulous Food Hall for hampers, special foodie advent calendars, and local brands such as Bullards Norfolk Gin and Norfolk Garden preserves. If you get hungry while ticking things off your to-do list then you can grab a levelled-up sausage roll at the impressive deli.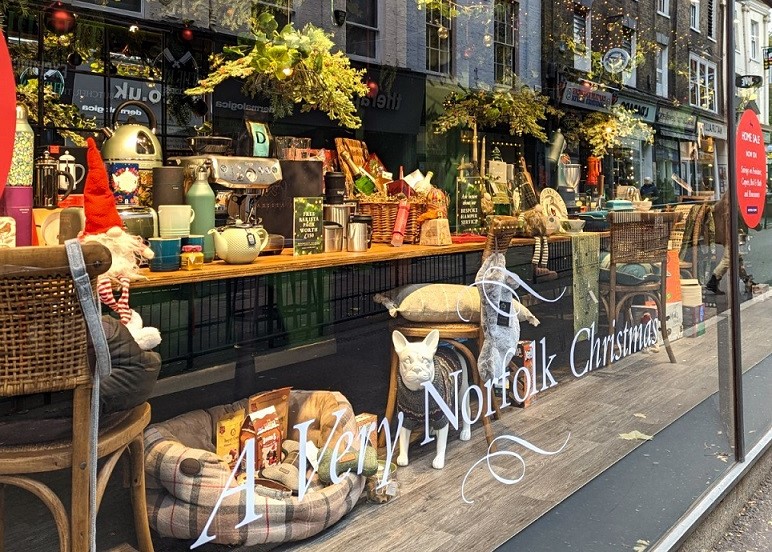 Jarrold, celebrating A Very Norfolk Christmas
John Lewis
For another everything-in-one-place shop, John Lewis has it all. With their homeware being a highlight, this makes the perfect store when shopping for someone with a lot of pride in their home! Looking for presents for teenagers? This store has electrical goods from headphones to iPads! Remember to look out for their quirky Christmas tree ornaments to create a more quaint and personalised tree this year.
House of Fraser
The go-to place for brands, House of Fraser in Chantry Place offers designer clothes, high-end beauty products, and tasteful home accessories. Most coveted for their branded clothing, this is the store for you if you're looking for luxury labels for loved ones, or that show-stopping outfit for Christmas day!
Book your Park & Ride ticket today and take a little bit of the stress out of Christmas shopping!
Norwich Market
One of the city's highlights, Norwich Market is another shopping destination for lovers of more individual gifts. Taxi Vintage is one of the favoured retro clothing stalls, with an awesome collection of timeless styles - the perfect place to find a present for a style-savvy student! Stop off at Olivia's for stunning silver jewellery with engraving options or Planted for a gorgeous terrarium for any avid plant parents. Norwich Market shopping offers some really unique and thoughtful present ideas, so why not take a look?
The market is also handily located next to the Forum, which we talk about more in our Christmas in Norwich article!
Vintage and Antique shops in Norwich
Shopping for someone with more unique tastes? Norwich is a whimsical hub of hidden gems should you look for them. Around The Lanes you'll find Slay Vintage, home to plenty of reworked 90s/noughties garms, and Sue Ryder, with an assortment of retro knitwear and quaint accessories, there's plenty of vintage clothing shops in the city.
Another diamond of The Lanes is Lowell, a vintage store full of quality clothes that make a wonderful gift for anyone with a nostalgic sense of style. Also host to an extensive record collection, this location is a goldmine for any vinyl enthusiasts. If you're looking for vintage clothing from mid-late 20th century styles, Pact Boutique offers so much - and is an animal sanctuary charity shop too!
Buying for someone with a passion for their lovingly designed home? Looses Emporium on Magdalen Street is the place to go for an eclectic collection of homeware and furniture, not to mention a range of books, clothes, and trinkets amongst the jam-packed shelves.
Just further down the road is Tombland bookshop, a magical highlight of the city for bookworms. If you know an avid collector of early editions and antique novels then having a nose around this beloved shop could find you some treasures.
Norwich City Centre Shopping
Norwich City Centre has no shortage of shops suited to present hunting. For pampering pressies there's The Body Shop, Boots, and L'Occitane en Provence. Explore local food treats and quality wines at The Garnet Store and The Adnams Shop. Or, for a range of styles there's a large collection of clothes shops including: Primark, Next, Crew Clothing, Joules, Fat Face, and New Look
You can get all your Christmas shopping in one trip in Norwich, with shops galore and plenty of gift inspo at your feet. Hop on our Park & Ride service and be on your way to an organised, stress-free Christmas!

Further information on the shops in this article:
Find all the unique stores located in the cherished Norwich Lanes
See the stalls currently occupying Norwich Market in the directory