Creating a city full of connections on board the Chatty Bus
3 months ago Mon 24th Jan 2022

Research has shown that more than 50% of all students feel lonely or isolated at some point whilst studying at university.
Students studying at the UEA are invited to step on board the Chatty Bus on Tuesday 25th January between 10am and 3pm and listen to a host of guest speakers discussing mental health.
Organised by Konectbus and The Norwich Together Alliance, the speakers include former Norwich City professional footballer Jeremy Goss as well as representatives from One Norwich NHS, SOS Bus, NHS Wellbeing, Konectbus, MIND and Your Own Place.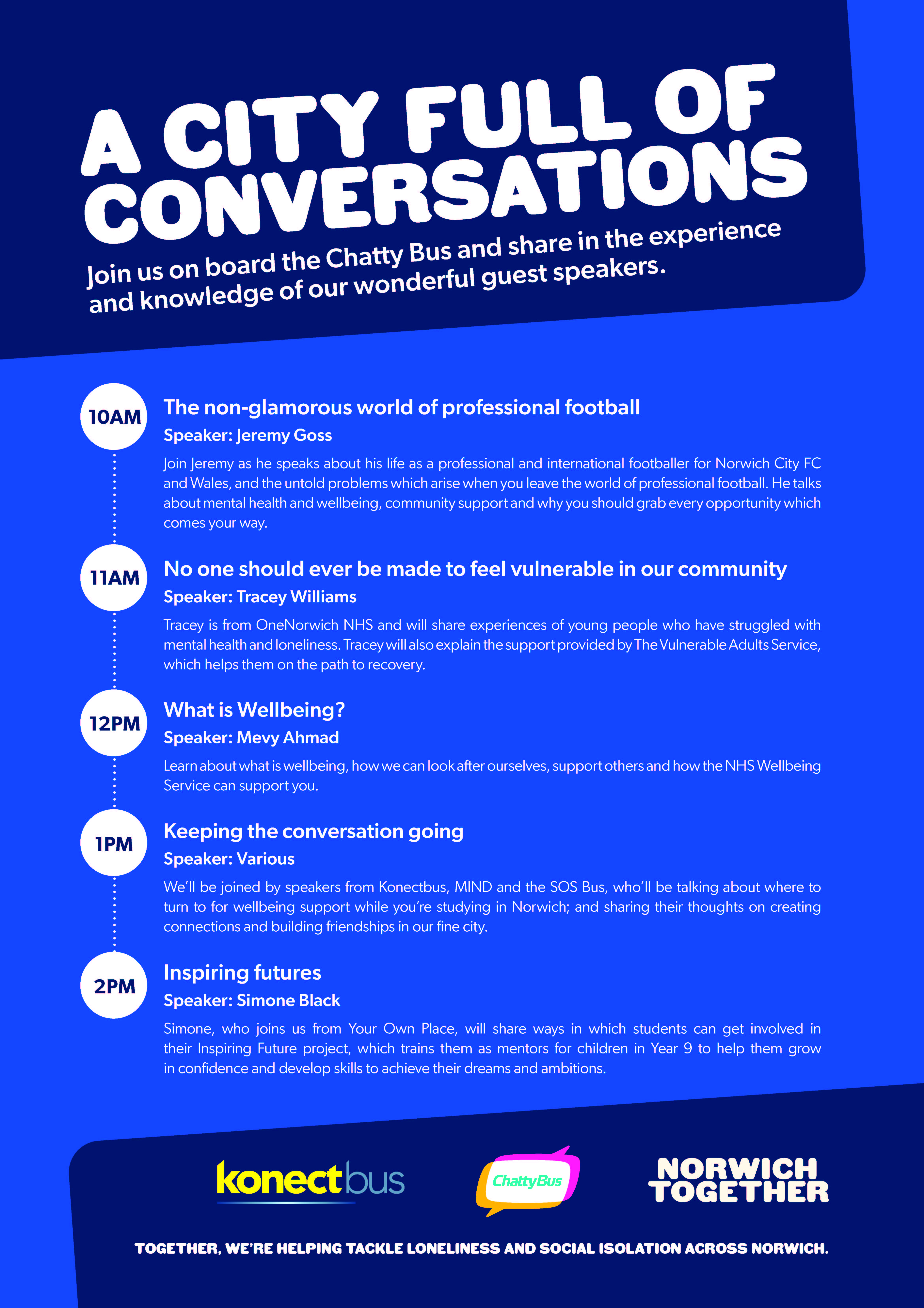 Click to view in full
Inside the Hive, will be representatives from the many organisations involved in the Norwich Together Alliance offering advice and support to students who may be struggling and offer aid to help tackle feelings of loneliness and isolation.
The event brings together representatives from MIND, NHS Wellbeing, Break, One Norwich NHS, SOS Bus, Norwich City Football Club, Konectbus/Chatty Bus, Health Watch Norwich, The Shoebox Community Hub, MAP, Age UK Norwich, Your Own Place.
Students will get the opportunity to find out more about these organisations, how they can access their services and get involved with volunteering, events, and courses. They will also learn how our bus services can assist them in accessing these facilities, getting them out and about off campus, building connections and forging friendships.
Students will also receive a FREE goody bag, a hot drink and are encouraged to share their own feelings on the interactive conversation wall.
" We are delighted to host some amazing guest speakers on board the Chatty Bus ready to discuss mental health" said Davina Langley, Marketing Manager for Konectbus.
Research has shown that many students at some time will suffer with feelings of loneliness and isolation during their time spent at university, and therefore it is important for us to all come together and share the breadth of wellbeing services available off campus, accessible by bus.
"We're really pleased to be hosting the Chatty Bus event at the UEA, bringing Norwich Together and showcasing all the support that is available for the student population of Norwich – said Tracey Drake, Local Development Lead for Business in the Community. More now than ever, we need to stand together and collectively support and create connected communities. The feeling of loneliness and being unconnected isn't going away but bringing people together and hosting events such as this one, makes us one step closer to connecting people. "
Konectbus are hoping to bring back their moving Chatty Bus once restrictions are fully lifted and therefore are encouraging students to become Chatty Bus champions and help to brighten someone's day by simply starting a conversation."
If you would like to sign up to become a Chatty Bus Champion, email us at feedback@konectbus.co.uk
k