About Konectbus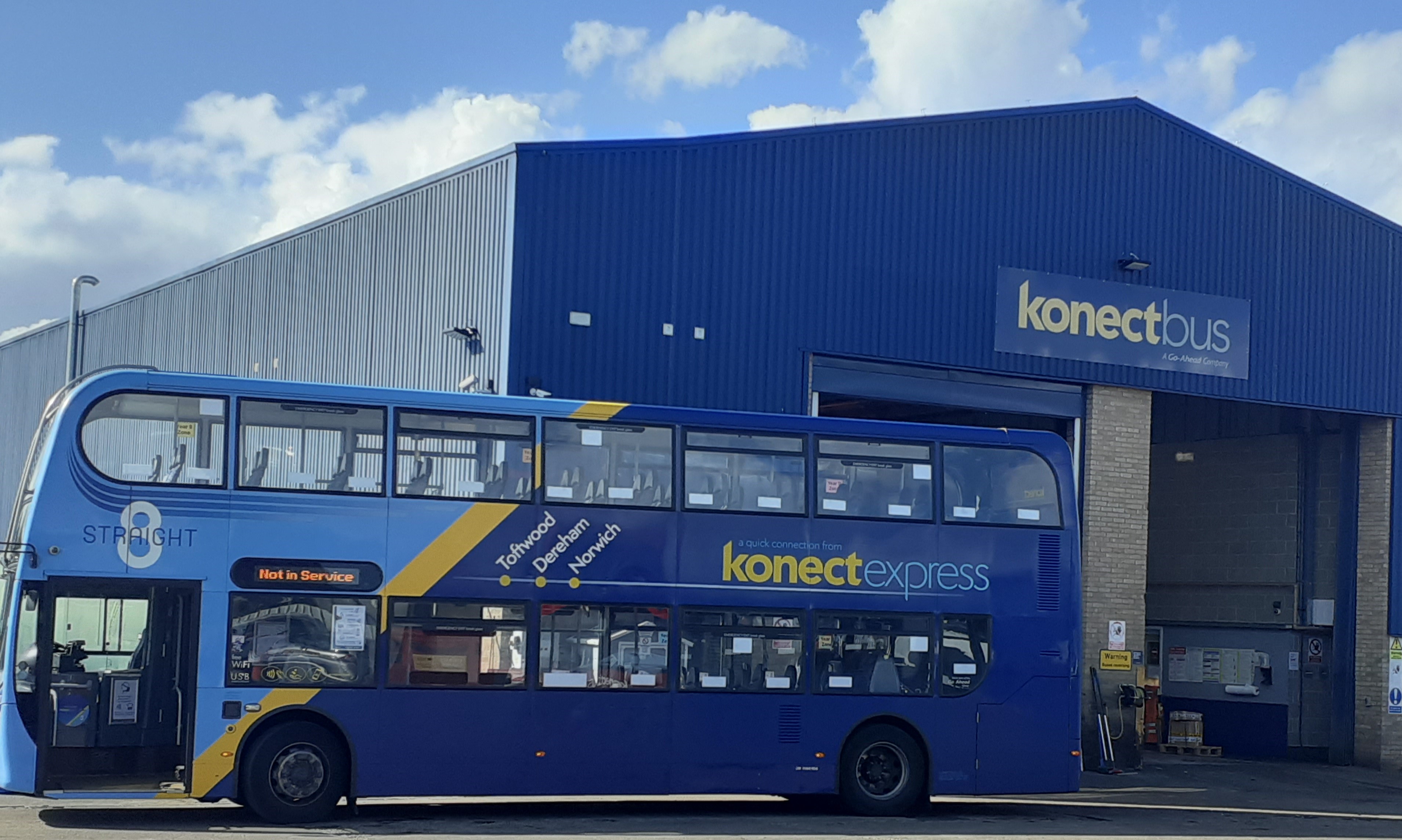 Konectbus first began as Konect Coaches in 1999.
Konectbus is based in Dereham and also has a sub depot in Rackheath. In 2019 significant changes were made to the network including enhanced frequencies and later evening journeys.
We continually invest in our buses and technology including the purchase of 23 brand new buses in 2015 and by offering our customers enhancements like free wifi and USB chargers so they can make the most of their journey time with us. In 2019 we invested in three brand new single deckers for Postwick Park & Ride with euro 6 stop/start engines, helping to improve air quality in Norwich.
We continue to invest in technology and now all of our buses accept contactless payments offering more convenience to those wishing to travel. Our investment in off-bus ticketing technology makes bus travel available to buy online from the comfort of an armchair with our mobile app, Konectbus app.
We also operate Norwich Park & Ride, relaunched in 2015, which includes the operation of six sites around Norwich. Five sites serve Norwich City Centre and the sixth serves the Norfolk & Norwich University Hospital and the University of East Anglia.
We pride ourselves on our customer service, punctuality and ease of use. All buses are low floor and easy access - and we have spaces available for wheelchair users.
Go East Anglia
Go East Anglia is wholly owned by the Go-Ahead Group.
We carry over five million passengers a year on 159 bus routes and all of our buses are branded with their own unique to give local identity to the towns we operate in.
The company's portfolio of operators include Hedingham & Chambers and Konectbus. The counties of Norfolk, Suffolk and Essex are served by our companies with network hubs in Dereham, Norwich, Watton, Thetford, Bury St Edmunds, Sudbury, Tollesbury, Colchester and Clacton.
These networks are mainly commercially operated, but there is significant involvement in the tendered local bus market, together with school and college services. The prestigious contract to operate Norwich Park & Ride for Norfolk County Council is currently held.
We currently employ more than 350 people and strongly believe in investing in and developing our employees. Colleague training is a focus for our business to develop new skills to enable us to serve our customers well. We remain committed to the communities we serve and are always looking at new ways to engage with them. Our stakeholder relationships are vital to our continued success.
Our values at Go East Anglia are trusting people, being down to earth 'can-do' people, building relationships and working together and staying one step ahead and being adaptable. This all contributes to us being the company that people want to work for, travel with and use.